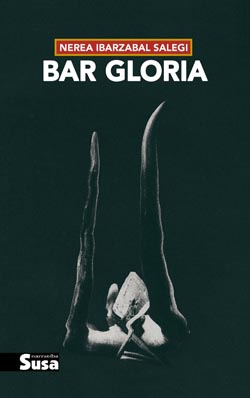 epub, 192 pages
Euskara language
Egunaren zurrunbiloa noiz apalduko daude Ana, Rakel eta Migel, patxaran gozotan hirurei eusten dien sarea ehuntzen segitzeko. Idi buru bat dute zelatan —gorputz gaixo baten itzala ilunpean—, eta distantzia gutxira dute Paradise, desira ukatuen dantzaleku, gela erreserbatu eta moketazko hormekin; eta baita hiria ere, lagunarte berri, arrotz denaren aire urduri eta modernitatearen lokalizazioekin.
Mundu bat kabitzen da Gloria tabernako azuleju gorri eta gainazal koipetsuen artean, eta denboraren ate ezberdinetatik sartuko da irakurlea bertara kontakizun honetan. Jendea da haren zimendu, eta konplizitate uneek, isildutako bortxa-markek, lanordu konpartituek zein elkarrizketa tarteka mutuek epeldu bezala erreko dituzte habe horiek, beste batzuk eraikitzeko, akaso. Iragan hurbil baten hitzezko filmatze bat dakar Nerea Ibarzabal Salegiren estreinako nobelak.
Nerearen idazkerarekin izugarri disfrutatu dut. Gomendagarria guztiz.
Hizkuntza aberatsa eta landua baina historiak ez nau erakarri
This link is taking you to: https://susa-literatura.eus/liburuak/narr144.
Is that where you'd like to go?